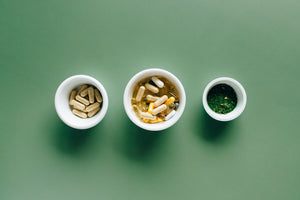 Collagen Supplements in Pakistan
Collagen is a natural protein found abundantly in our body and acts as a building block of skin, bones, and muscles. It has multiple benefits for hair, skin, nails, and bone health. 
Collagen supplements are used to revitalize the synthesis of collagen in the body. It also acts as an anti-aging agent. Collagen supplements are seeking the attention of consumers these days. Collagen supplements are available in tablets, collagen protein powder, collagen drinks, collagen injections, and serums. These products are gaining importance in the beauty and healthcare industries. 
Benefits Of Collagen Supplements:
Collagen supplements support and maintain hair, skin, bone, and nail health. A few crucial benefits of collagen supplements have been discussed below:
1. Collagen Supplements As Anti-Aging:
Oral intake of collagen is proven to enhance skin hydration and elasticity for elder individuals. These supplements slow down the process of aging by reducing aging signs primarily in the skin. These are beneficial in reducing wrinkles, skin dryness, fine lines, and loose skin. Collagen enhances the production of fibrillin and elastin protein thus improving skin hydration and elasticity.
2. Collagen Supplements For Hair Health:
Collagen supplements are beneficial in improving hair health and maintaining thicker hair. Daily collagen intake will improve your hair's quality, thickness, and scalp coverage.
3. Collagen Supplements For Bone Health:
Our bones became fragile and less dense with the process of aging. They could be easily fractured and takes longer to heal. Daily intake of collagen supplements tends to make bones denser and stronger. As collagen slows the aging processes it makes our bones denser and aids the body to produce new bone. These supplements reduce the risk of osteoporosis development.
4. Collagen Supplements For Healthier Nails:
Some individuals face the problem of fragile and poor nail growth. A regular intake of collagen supplements will faster their nail growth and they do have smooth and shiny nails.
5. Collagen Supplements To Reduce Osteoarthritis Pain:
Oral intake of collagen supplements acts as a pain reliever and enhances joint function for knee osteoarthritis. It will take about 3-5 months to attain these improvements.
6. Collagen supplement to increase muscle mass:
Collagen supplements will tend to increase muscle strength and mass.
Which Are The Best Collagen Supplements In Pakistan?
Ginnastic Nutrition's collagen supplements contain a supreme-quality source of Collagen – marine Collagen. These supplements include a combination of Collagen, Vitamin C, Biotin, and many more essential nutrients which ensures complete hair, skin, and nail growth and protection. Following collagen supplements are offered by Ginastic Nutrition.
HSN:
HSN tablets are a versatile blend of various dietary supplements formulated to keep you healthy. It comprises 23 vital minerals and vitamins that are essential for healthy skin, hair, and nails.
Ultra Power And Strength Stack:
This combo includes  Whey protein, Vdox, Peanut butter, OME-3, and HSN in it. Ginnastic Nutrition introduces Ultra Power and Strength Stack as a remarkable weight gainer supplement.
 Health professionals and fitness experts of Ginnastic Nutrition formulated these products in accordance with the customer's requirements and market demands. You can now order this versatile deal package with a single click on the website.
Collagen Supplements in Pakistan Price
---