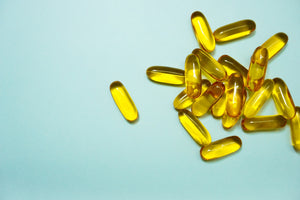 Best Omega 3 Capsules in Pakistan
Overview:
Omega -3 fatty acids, DHA, and EPA are the major constituents of fish. These nutrients act as anti-inflammatory agents and maintain the cardiovascular and nervous systems. People could use fish oil as a supplement to fish to fulfill their EPA and DHA requirements. These fatty acids are among essential nutrients and should be added to our diet as our body could not able to synthesize them. Sources may include fatty fish, plant seeds, and supplements.
Why Do We Need Omega Fatty Acids?
Fats are thought to be unhealthy for the body but the reality is not the same. Healthy fats i.e., omegas are involved in various physiological processes. These include.,
Essential hormones production

Nerve impulse conduction

Blood circulation maintenance

Blood cholesterol reduction

Brain development
What Are The Sources Of Good Fats In Our Daily Diet?
Usually, it is considered that fats are originated from animal sources only, but we can also have them from plant sources. 
Animal sources:
Fatty fish and fish oil are the primary sources of the following omega-3 fatty acids:
EPA (eicosapentaenoic acid)

DHA (docosahexaenoic acid
Plant sources:
Plant-based omega-3 fatty acid includes;
 ALA (alpha-linolenic acid)
ALA is first converted by our body into EPA and DHA and utilized further.
Dietary rich sources of omega-3 fats:
The primary dietary sources of omega-3 fats are as follows:
 Fatty Fish (Salmon, Sardines, and Cod Fish)

 Flax seeds

 Sardines

 Chia Seeds

 Walnuts, and other nuts

 Pumpkin Seeds
Few individuals could not take the required amount of omega-3 in their diet so should consume them through supplements.
Deficiency Symptoms Of Omega-3:
The following are the main symptoms associated with Omega-3 deficiency:
Skin dryness and irritation

Fatigue or tiredness

Poor memory

 Depression

Cardiovascular disorders (heart and blood circulatory problems)

Mood swings
Best Fish Oil Supplements For Omega-3 Supply:
Ginnastic Nutrition has formulated various fish oil supplements to provide the best support to your heart and brain health. Following are the products comprises of omega-3, by Ginnastic Nutrition:
1. Ome-3:
This soft gel capsule by Ginnastic Nutrition is composed of fish oil and has proven a very potent dietary supplement. It reduces blood cholesterol levels thus improving heart health and maintaining blood pressure. It also reduces the risk of stroke and cancer.
2. Mega Fish:
This product combines fish oil and coenzyme Q10. this supplement is very helpful for supporting the cardiovascular, immunity, and nervous systems.
3. Health Pack:
The Health Pack by Ginnastic Nutrition is a blend of all the essential vitamins and minerals for supporting your vitals. It comprises our three products i.e., Gerimax, Ome-3, and Magnesium.
4. Pump-up Stack:
It is a bulking stack composed of a powerful blend of multiple weight gainer supplements to fulfill your body's daily requirements. Ome-3 is added to this stack to control blood cholesterol levels and maintain cardiovascular health.
5. Super Health Pack:
Super Health Pack has the addition of sol-D in it, however, the remaining products are the same as of health pack. It is formulated by the health experts of Ginnastic Nutrition to keep you fit and active both physically and mentally.
6. Ultra Power And Strength Stack:
Ultra Power and Strength Stack is a combination of various products for gaining weight in a healthy way. It comprises Ome-3 for keeping cardiovascular and nervous systems healthy during your workout journey.
7. I-Cap M:
Ginnastic Nutrition formulated I-Cap M to improve and support your eye health. Omega-3 fatty acids are very beneficial for maintaining a clear vision and reducing the risk of ocular diseases.
Ginnastic Nutrition provides you with premium-quality supplements. Our health expert's prime responsibility is our customer's health and care, so they introduced a wide range of products having omega-3 in them. You can now order any of these products with just a single click on our website.do consult your doctor before starting any supplement.
---